FAMILY IS EVERYTHING

Mangia! Bello's is an Italian restaurant located in Philadelphia Pennsylvania, started by a family wanting to honor their grandparent's recipes. The menu is made up of classic Italian dishes that the owner's grandmother would cook to feed her eight children. Bello's homemade pasta brings even more authenticity to the Italian environment along with their many choices of local meats and cheeses for a personalized charcuterie board.

Bello's is a place that embraces family and community, they offer a training program for aspiring chefs every month, getting them ready for the competitive restaurant industry and teaching them their signature family's recipes along the way.



Bello's concept was inspired by the restaurant's origins mixed with the modern environment of Pennsylvania. Coming from a little town in Italy, the owner's grandparents brought not only their traditional Italian dishes, but their 'family is everything' mentality that greets every mouth to feed with a warm hug and a full plate of pasta. Bello's prides themselves on their fresh pasta made daily, shown through hand done icons of various kinds of pasta, Bello's fully embraces the one-of-a-kind shape each pasta takes in their kitchen.

The restaurant's owners came from a large family, full of all sorts of characters, but weather they were sisters, brothers, or neighbors, they were considered family. The mixture of multiple typefaces to create the logo, titles, and wall graphics in the restaurant show the exciting, varied, and lively group of Italians in the family. Bello's wanted to bring as much of the personality of their grandparents into the restaurant as possible so both the cookbook and the graphics throughout the restaurant contain classic Italian phrases often heard from their grandmother in the kitchen. The grandparents were anything but quiet so the graphics for Bello's were made to support that loud and enthusiastic spirit.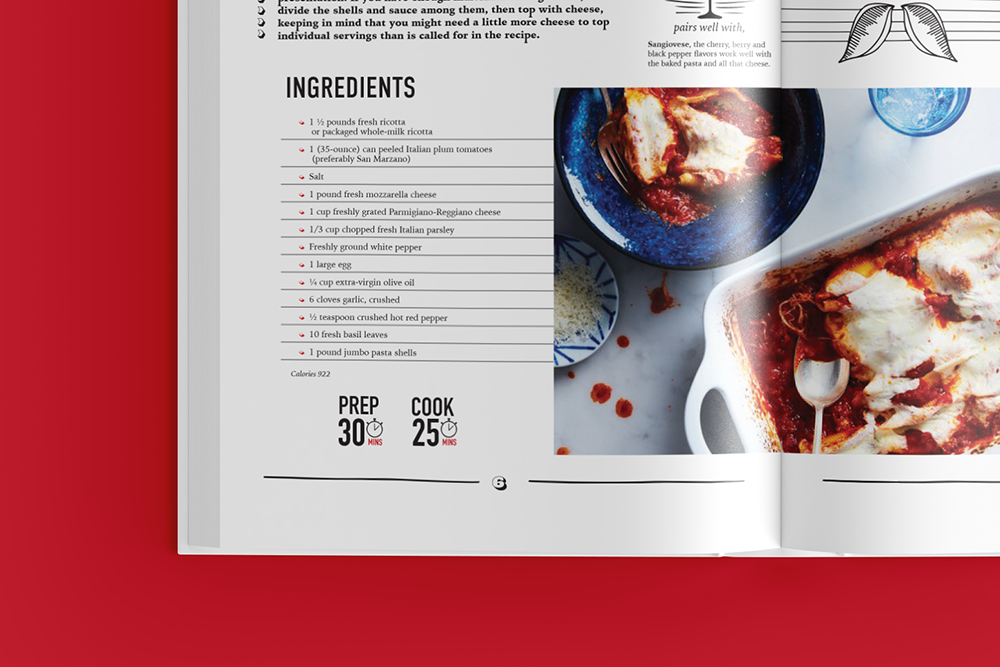 The menu board is made up of a thin piece of wood with the logo laser cut on the bottom. The wood is stained a warm chestnut color to bring out the red in the various brand elements throughout the restaurant. Bello's wanted bold design which called for a striking color palette of white, black, red, and occasionally orange. While very colorful people, their grandparent's kitchen was filled with the classic white porcelain dishes, creating a clean canvas for their bright red pasta sauce to be painted across. The simple color palette mixed with the various type forms and hand done icons create a bold but personal identity that Bello's family prides themselves on.